The Conference
Every year in Belgrade, ELTA brings together a stimulating mix of teachers and educators from all over the world to exchange ideas and discuss the emerging issues and the latest ELT trends. In the last three years, the conference was attended by over 1100 attendees from 40 countries and over 60% of the attendees coming from outside of Serbia. This year, ELTA Conference offers more than 50 panel sessions. Besides the general programme, ELTA also offers several side events such as social evening, raffle, and poster presentations.
Location
Institute for Contemporary Education is a dedicated space for gatherings and networking opportunities and is at the heart of the vibrant contemporary scene in Belgrade. It is an inspiring and cosy meeting venue on the third floor of Belgrade Palace.
Sponsorship Opportunities
Take the opportunity to reach over 400 participants in an ideal networking setting. ELTA Conference is a premier annual gathering of the country's leading English teachers' association and a unique opportunity to present your publications, ideas and/or services. ELTA offers promotional opportunities to gain visibility for your company or organisation. It is an extraordinary opportunity to mix and mingle with the ELT community.
Download our sponsorship opportunities here or click below.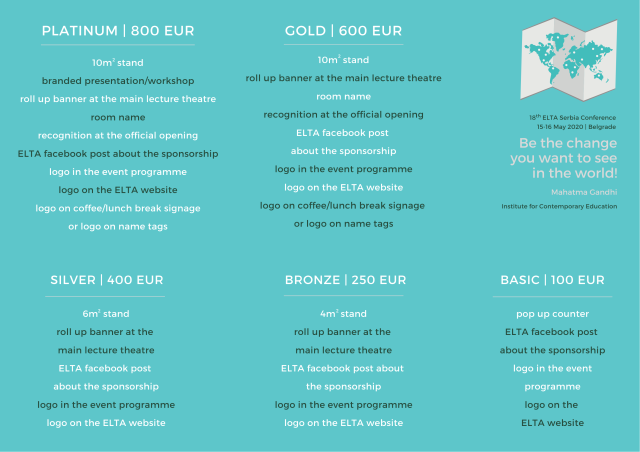 If you are looking for something and do not see the option listed here, please contact us at office@elta.org.rs.