ELTA Conference gives you the chance to hear internationally renowned plenary speakers from UK and USA.
ELTA Conference mirrors a wide range of theoretical and practical issues and developments in the teaching world, covering:
Young Learners
Testing, Evaluation & Assessment
English for Specific Purposes
ELT Management
Teacher Development
Computer-Assisted Language Learning
You can take part in workshops, commercial presentations, panel discussions and the international exchange among ELT professionals. In addition to all other benefits, there are numerous Publishers' and Sponsors' events, discounts, prizes, and awards.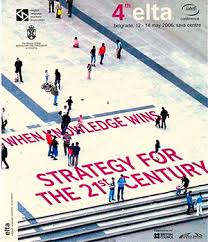 4th ELTA Conference
Belgrade, 12-14 May 2006
When Knowledge Wins: Strategy for the 21st Century

Plenary Speakers:
Kari Smith, David Evans, Shaun Wilden, Steve Lever, Alan Pulverness, Craig Dicker, Mario Rinvolucri, Grant Kempton, Radmila Popovic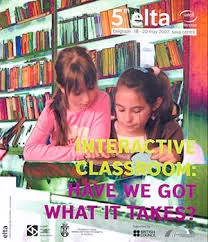 5th ELTA Conference
Belgrade, 18-20 May 2007
Interactive Classroom: Have We got What it Takes?

Plenary Speakers:
George Pickering, Jim Scrivener, Liz Kanakis, Michael Harris, Herbert Puchta, Mady Musiol, Magaly Villarroel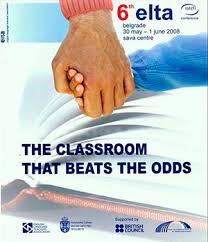 6th ELTA Conference
Belgrade, 30 May-1 June 2008
The Classroom that Beats the Odds

Plenary Speakers:
Robert Hastings, Philip Kerr, Steve Lever, David A. Hill, Lisa Harshbarger, Anne O'Keeffe, Hugh Dellar, Lisa Warner, Robert Dea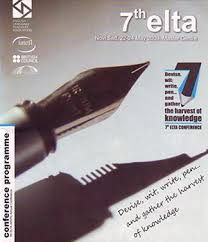 7th ELTA Conference
Novi Sad, 22-24 May 2009
Devise, Wit, Write, Pen… and Gather the Harvest of Knowledge

Plenary Speakers:
Shelley Wong, Peter Grundy, Vladimir Žegarac, Ana Sikorzyńska, Slobodanka Kitić, Martin Hewings, Adrian Tennant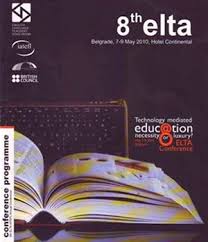 8th ELTA Conference
Belgrade, 7-9 May 2010
Technology Mediated Education: Necessity or Luxury?

Plenary Speakers:
Herbert Puchta, Gavin Dudeney, Bill Bowler, Sean Conley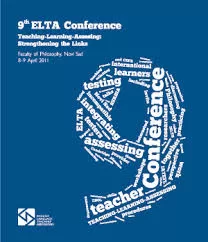 9th ELTA Conference
Novi Sad, 8-9 April 2011
Teaching-Learning-Assessing: Strengthening the Links

Plenary Speakers:
Chistine Coombe, Tony Green, Jeremy Harmer, David Marsh, Jim Scrivener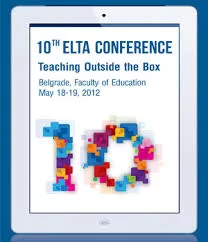 10th ELTA Conference
Belgrade, 18-19 May 2012
Teaching Outside the Box

Plenary Speakers:
Graham Hall, Jayme Adelson Goldstein, Sophie Ioannou Georgiu, Steve Oakes, Geraldine Mark, Tony O'Brien, Steve Lever, Danae Kozanoglou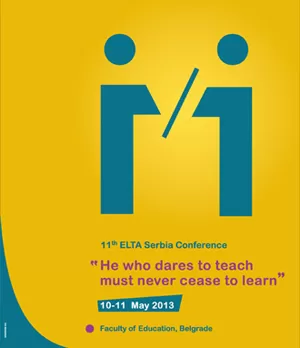 11th ELTA Conference
Belgrade, 10-11 May 2013
"He who dares to teach must never cease to learn"

Plenary Speakers:
Zoltan Rezmuves, Roisin O'Farell, Alastair Lane, Steve Lever, Suzanne Panferov, Jeanne Perrett, Tony O'Brien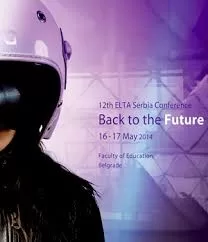 12th ELTA Serbia Conference
Belgrade, 16-17 May 2014
Back to the Future

Plenary Speakers:
Joan Kang Shin, David Evans, Jamie Keddie, Willy Cardoso, Grant Kempton, Kenn Norris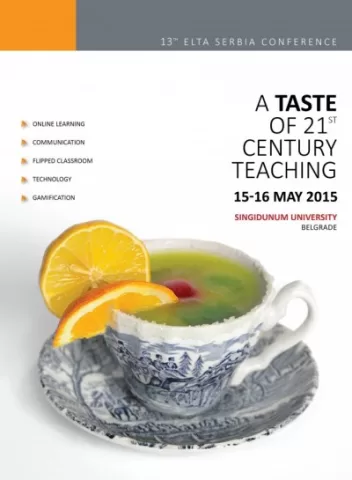 13th ELTA Serbia Conference
Belgrade, 15-16 May 2015
A Taste of 21st Century Teaching

Plenary Speakers:
Deborah Healey, Hugh Dellar, Paul Dummett, Rob Dean, Rakesh Bhanot, Biljana Radić-Bojanić, Pedro Moura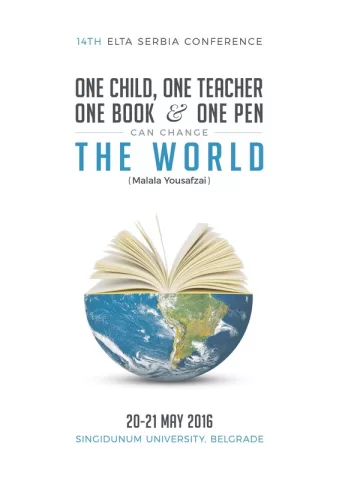 14th ELTA Serbia Conference
Belgrade, 20-21 May 2016
"One child, one teacher, one book & one pen can change the world (Malala Yousafzai)"

Plenary Speakers:
Helena Curtain, Katarina Rasulić, Mark Andrews, Tim Bowen, Anna Kolbuszewska, Jon Hird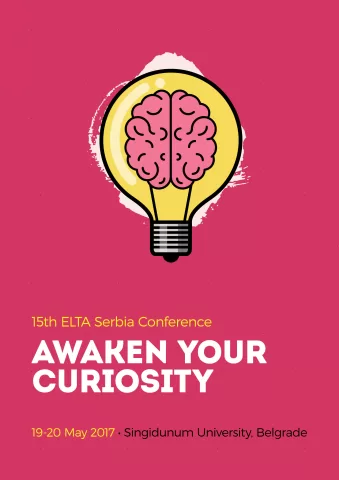 15th ELTA Serbia Conference
Belgrade, 19-20 May 2017
Awaken Your Curiosity

Plenary Speakers:
Marjorie Rosenberg, Julie Wallis, Mike Mayor, Tim Bowen, Mojca Belak, Sylvie Dolakova, Igor Lakić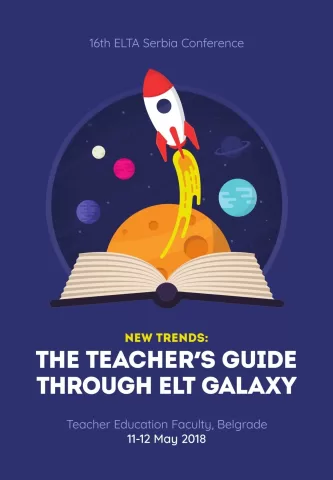 16th ELTA Serbia Conference
Belgrade, 11-12 May 2018
New Trends: Teacher's Guide Through ELT Galaxy

Plenary Speakers:
Jen MacArthur, Rob Dean, Nick Bilbrough, Daniel Xerri, Alan Marsh, Jelena Vranješević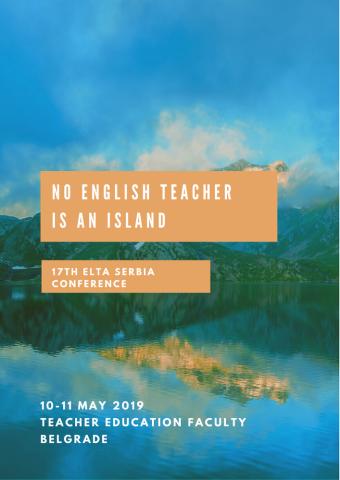 17th ELTA Serbia Conference
Belgrade, 10-11 May 2019
No English Teacher is an Island

Plenary Speakers:
Beverly Ann Chin, Alan Maley, Mike Shreeve, Linda Steyne, Fiona Dalziel, Alistair Starling, Sarah Ellis, Matthew Fitzjohn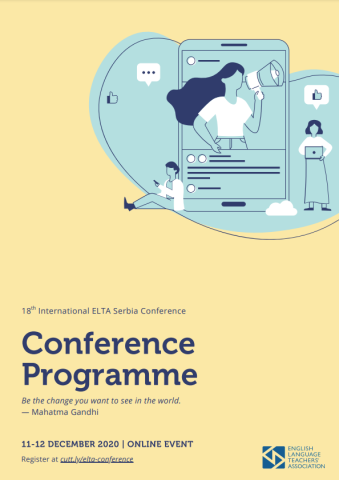 18th ELTA Serbia Conference
Online, 11-12 December 2020
"Be the change you want to see in the world. – Mahatma Gandhi"

Plenary Speakers:
Kevin McCaughey, Chaz Pugliese, John Wolf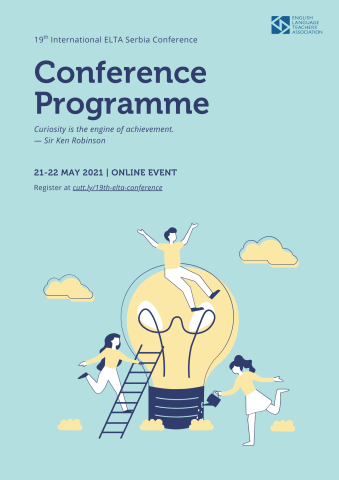 19th ELTA Serbia Conference
Online, 21-22 May 2021
"Curiosity is the engine of achievement. – Sir Ken Robinson"

Plenary Speakers:
Susan Hillyard, Lindsay Warwick, Radmila Popović, Pamela Johnson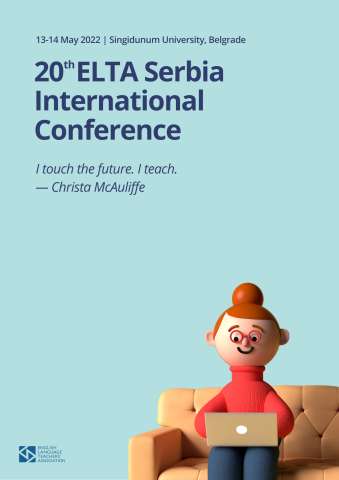 20th ELTA Serbia Conference
Belgrade, 13-14 May 2022
"I touch the future. I teach. – Christa McAuliffe"

Plenary Speakers:
Kevin McCaughey, Nenad Tomović, David Heathfield, Philip Warwick, Scott Thornbury, Dragana Vasilijević-Valent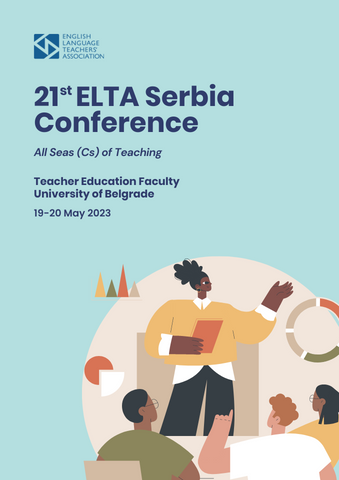 21st ELTA Serbia Conference
Belgrade, 19-20 May 2023
All Seas (Cs) of Teaching

Plenary Speakers:
Tamrika Khvtisiashvili, Alexandra Green, Aleksandra Popovski, Rob Dean, Lindsay Clandfield, Borko Petrović