Drage koleginice i kolege,

Još jednom vam se zahvaljujemo na prisustvu vebinaru "Flip your classroom to promote communication and collaboration" ili "Okrenite učionicu i podstaknite razvoj komunikacije i saradnje".

Dotakli smo se sledećih tema:

1. Šta je flipped learning ili obrnuta učionica?
2. Kako se Blumova taksonomija ciljeva transformiše u obrnutoj učionici?
3. Kako se obrnuta učionica primenjuje u učenju na daljinu?
4. Kako se obrnuta učionica primenjuje u učionici?
5. Koji su koraci za razvoj obrnute učionice?
6. Koje su česte aktivnosti tokom jednog obrnutog časa?
7. Veštine 21. veka – komunikacija i obrnuta učionica;
8. Veštine 21. veka – saradnja i obrnuta učionica;
9. Kako se izrađuje video sadržaj koji će se koristiti u obrnutoj učionici?
10. Koji se problemi u nastavi mogu rešiti upotrebom obrnute učionice?

Predstavili smo detaljne korake za razvoj obrnute učionice, visoko i nisko struktuirane obrnute tipove aktivnosti, podelili primer whiteboard videa i savete o načinu kreiranja video sadržaja. Takođe smo predložili alate srednjeg i naprednog nivoa za razvoj obrnute učionice i objasnili kako bismo flip-ovali aktivnosti koje smo već imali u svojim učionicama.

Tokom vebinara, bavili smo se metodikom rada tj. pedagoškim aspektom IKT u nastavi. Ovog puta, fokus je bio na organizaciji i razvoju flipped learning časa i nismo se bavili tehničkim aspektom upotrebe aplikacija.

Svi učesnici su, kao i do sada, dobili digitalni bedž za prisustvo.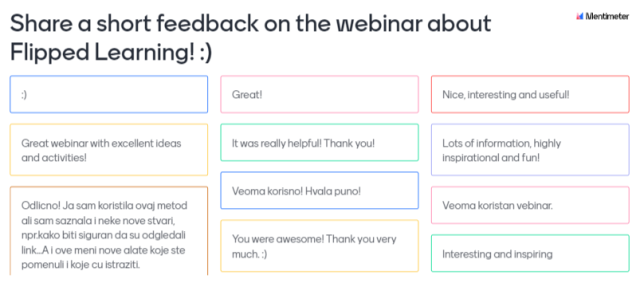 Prezentaciju sa vebinara možete da pogledate u nastavku:
Snimak vebinara:
Našim vebinarima je do sada prisustvovalo preko 600 učesnika, pa molimo one koji nisu popunili anketu, da to učine jer od vaših odgovora zavisi planinarenje narednih online događaja. Anketi možeti da pristupite ovde.
Na ovom linku možete pročitati detaljniju refleksiju na engleskom. U nastavku je uputstvo za automatski prevod stranice: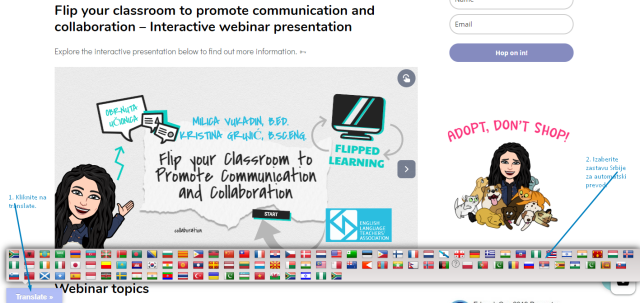 Vidimo se na nekom od budućih vebinara!
Milica Vukadin i tim Udruženja ELTA