Drage koleginice i kolege,
Pre svega, želimo da se zahvalimo što ste prisustvovali našem
prvom vebinaru
o učenju na daljiinu. Nadamo se da vam je vebinar pomogao da steknete osnovna znanja o ovoj temi i da ste spremni i motivisani da započnete sa novim modelom učenja.
U ovom postu ćemo podeliti najbitnije delove vebinara kao i linkove aplikacija o kojima smo pričali. U dnu posta se nalaze linkovi ka video snimku i komentarima učesnika.
Kolege su kao moguće probleme u učenju na daljinu navele sledeće: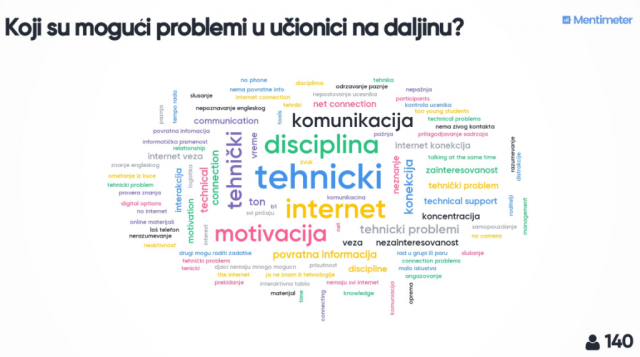 Razbijmo mitove o učenju na daljinu
Online
i offline učionice su drugačije. Učionica je učionica, bez obzira na to gde se nalazi. Svaki vaspitač, učitelj ili nastavnik će se snaći u online učionici korišćenjem metoda i teorija učenja koje već poznaje. Online učionica zahteva adaptacije ali osnovna pravila su ista.
Učenici neće slušati i teško je kontrolisati učionicu. U većini slučajeva, učenicima se dopada upotreba digitalnih alata i samim tim se retko dešavaju problemi. Što se tiče kontrolisanja učionice (classroom management), nekada je najbolje ne pokušavati kontrolu nad svime i prepustiti učenicima proces učenja. Ovaj pojam nazivamo positive chaos. Malo pozitivnog haosa može da vodi dobro obavljenim zadacima i razvijanju veština 21. veka kod učenika na prirodan i nesputan način. Svi učesnici online učionice treba da nauče da se opuste da bi proces učenja bio efektan.

Učenici neće pratiti nastavu. Neki učenici sigurno neće pratiti nastavu ali nemojte da se brinete. Učenici ne prate uvek nastavu ni u regularnoj učionici ali to nas ne sprečava da održimo čas i završimo planirane aktivnosti.

Proces učenja nije dovoljno kvalitetan i neistražen je. Učenje na daljinu postoji već decenijama i mnoga istraživanja su potvrdila da proces učenja može biti jednako kvalitetan kao i u regularnoj učionici, pod uslovom da se učenju na daljinu pristupi ozbiljno.

Nepoznavanje jezika je ogromna prepreka koju ne možemo preći. Nepoznavanje jezika može biti problem ali ukoliko savladate osnovnih 30-ak reči koje se često ponavljaju, moći ćete da razumete skoro svaku aplikaciju. Napravićemo spisak takvih reči u nekom od narednih vebinara.
Vrste alata za učenje na daljinu
Screenshot prezentacije sa vebinara

Kada su u pitanju vrste alata koje koristimo u učenju na daljinu, najbitnije je znati koje su vrste alata potrebne za efektnu i potpunu učionicu na daljinu.

Postoje 4 osnovne vrste alata i to su:

aplikacije za čas uživo

LMS platforme za učenje

alati za stvaranje sadržaja

alati za ankete, obnavljanje i testiranje
Mešanje osnovnih funkcija platformi dovodi do nepotpunog učenja na daljinu
Šta ovo znači kada su u pitanju praksa i učenje na daljinu?

Ukoliko se mešaju funkcije alata (npr. Skype ili Zoom su platforme), gubi se vrlo bitan deo učionice na daljinu, a to je, zapravo, platforma. Naglašavamo da nije bitno koji se alati koriste za poziv i nije važno koja se platforma koristi ili šta se koristi za izradu sadržaja, dok god su svi alati prisutni. Najbitnija je pravilna kombinacija alata i platforme koji su tu da automatizuju proces učenja i učine ga lakšim za nastavnike i učenike.
Kratak spisak alata i njihova upotreba
Classroom management ili kako ne izgubiti razum
Nađite moderatore među učenicima i dozvolite im da se bave tehničkim problemima i pomažu drugim učenicima u četu dok držite čas. Rotirajte moderatore i ponudite im digitalni bedž kao nagradu za učenje. Digitalni bedževi su savremene vrste mini kredencijala i možete ih napraviti u bilo kom programu.

Pokrenite čas 5 minuta ranije da svi budu spremni. Podsetite učenike da čas počinje sat vremena pred početak – možete koristiti Edmodo ili bilo koju drugu platformu za koju se odlučite.
Na početku časa obavezno obavite A/V check. Proverite audio i video podešavanja da biste bili sigurni da vas svi vide i čuju. Na ovaj način možete da budete sigurni da su problemi ove vrste nastali od strane učenika, ukoliko se oni kasnije uključe.

Ostavite 10 minuta na kraju svakog časa za pitanja. Pokušajte da motivišete učenike da steknu naviku da postavljaju dodatna pitanja na kraju časa. Ukoliko stalno budu postavljali pitanja, često će prekidati čas i aktivnosti. Ovo se odnosi na tehnička i generalna pitanja dok se preporučuje da se na tekuća pitanja odgovori odmah.

Pazite na vreme! Vreme ispred računara proleti brzo. Dobro rasporedite aktivnosti i nemojte se nervirati ako ne stignete da pokrijete sve što ste planirali.
Ovom prilikom vas pozivamo da pratite stranicu našeg Udruženja da biste na vreme bili obavešteni o budućim vebinarima.

Vidimo se online!
Srdačan pozdrav,
Tim Udruženja ELTA