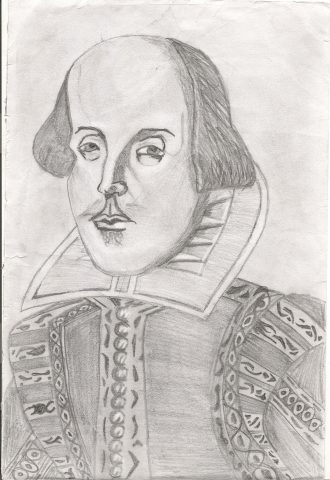 by Ivona Madaras, III4, Chemistry and Food Processing Technological School, Belgrade
On the occasion of the World Book Day and 400th anniversary of Shakespeare's death the English department of our school, Chemistry and Food processing technological school in Belgrade, organized a Debate/Tea party.

The programme named "To Be or Not to Be" was presented in our freshly painted English language classroom on 19th April 2016. The pupils of our school with their English teachers, Bojana Stankic and Vesna Jevtic, as well as a teacher of physics, Milenija Joksimovic, contributed to this event.

We tried to answer several questions: Why is Shakespeare still very important to us? What can new generations learn from Shakespeare? How did Galileo influence Shakespeare?

We read parts of his best known tragedies, comedies and love sonnets, we watched "Shakespeare Lives 2016" videos and some presentations that our students prepared. We compared the work and life of Shakespeare to his contemporary Galileo Galilei (they were both born in 1564).

In a pleasant atmosphere, with the lyrics and the guitar, this activity finished with some real English tea and home-made biscuits. We all enjoyed the event immensely.
by Bojana Stankić, Chemistry and Food Processing Technological School, Belgrade