Igor Lakić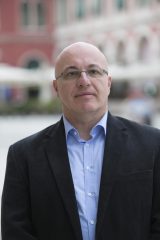 Dr Igor Lakić is an Associate Professor at the Faculty of Philology of the University of Montenegro. His research interests include discourse analysis, genre analysis, English syntax, sociolinguistics and ELT. He has published two monographs: Genre Analysis: ESP Discourse and Discourse, Media, War, both published by the University of Montenegro. Igor Lakić is also one of the co-editors of the monograph Academic Discourse Across Cultures published by Cambridge Scholars Publishing and the author of one chapter in the monograph. The University of Montenegro has also published his textbook English Phonetics and Phonology. He has published numerous papers in national and international journals and presented at numerous international conferences. He teaches English Phonology, English Syntax, Discourse Analysis, the Translation of Legal Texts into English, the Translation of Economic Texts into English and Consecutive Interpreting, while also supervising MA and PhD dissertations. Igor Lakić was formerly the Dean of the Institute of Foreign Languages at the University of Montenegro and a member of the Senate of the University. He is a member of the Committee of Experts for Regional and Minority Languages at the Council of Europe in Strasbourg.
Sylvie Dolakova
Sylvie Dolakova (Masaryk University Brno and freelance) is a teacher trainer focusing on teaching English to children aged 4-15 and students-to-be-teachers. She specialises in teaching English through art and stories, publishes language game books and story-based CDs for children, presents at webinars (Czech national eduational platform). She also works as an ELT consultant for NILE, Norwich.
More to be announced.