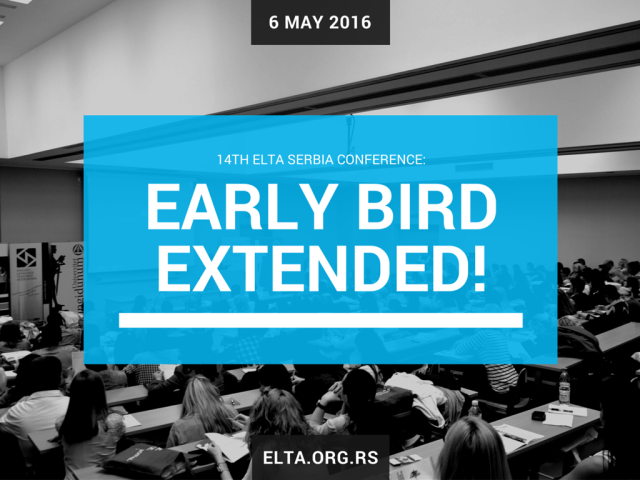 Dear colleagues,
Thought you'd missed your chance to register for the 14th ELTA Serbia Conference at the lowest price? You're in luck – Early Bird registration has been extended for two final weeks, ending Friday, May 6!
This is your last chance to take advantage of the current savings. Once May 6 arrives, the Early Bird will have flown!
The planning team has put a great agenda together for you! To view the sessions click here.
We would also like to use this opportunity to inform you about our special 3+1 offer for schools. Your schools can pay 3 conference fees and get one for free.
The conference will be held at the Singidunum University, 261a Kumodraška Street, Belgrade. Please be advised that there are two University buildings in the same area, the one at 32 Danijelova Street and the one where the Conference is being held at 261a Kumodraška Street. Note that the street name has been changed to 261a Peka Dapčevića Street but the maps haven't been updated yet. Click here for the route and accessibility.
Take this chance and register for the conference now! We hope you can join us on 20-21 of May!
ELTA team